Best Entertainment Pub in the North West
By Christian Rose-Day (17 Sep 10)
Tags: best entertainment pub in north west uk manchester beer drink award oscars region going out town city bar music quiz night live theme film screening competition best entertainment pub in north west uk manchester beer drink award oscars region going out town city bar music quiz night live theme film screening competition best entertainment pub in north west uk manchester beer drink award oscars region going out town city bar music quiz night live theme film screening competition best entertainmen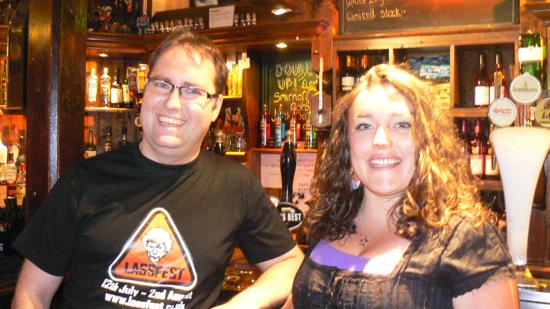 A central Manchester pub,
The Lass
, has been named the Best Entertainment Pub in the North West, and one of the six best for entertainment in the UK in the pub industry's most prestigious competition, The Great British Pub Awards.
The Lass
, on Charles Street, made the shortlist after impressing a panel of expert judges after winning the title for the north west region.
Lessee Gareth Cavanagh and general manager Lisa Davies (pictured above), are thrilled to be shortlisted. They said, "We've worked hard to build up our entertainment, as a way of giving customers another reason to come into the pub. We're grateful to our team of fantastic staff who have put us into the finals for this top Award." The pub offers a diverse range of entertainment for its varied customers; live music, open mic sessions, quizzes, magic shows and comedy nights all feature regularly.
One of the competition judges was Rachelle Peterson from Filmbank, which sponsors the Best Entertainment Pub category. She said, "Entertainment, from live music to quiz nights, themed evenings and more recently even film screening events, is an important part of pub life.
The Lass
is an outstanding example of how the right programme of entertainment can add to customers' enjoyment of their time in the pub."